Welcome TO THE
MUSTANG EXCHANGE
The first and only mentorship program of its kind for law schools, SMU Dedman School of Law's Mustang Exchange is an innovative "flash" mentorship program that connects each law student with multiple alumni and friends for one-on-one mentoring meetings.
What is Flash Mentoring?  Instead of a traditional mentorship program that pairs one student with only one mentor for the year in hopes that a beneficial relationship will organically develop, the Mustang Exchange offers an SMU Law student the chance to build his or her legal network from Day One by connecting with multiple alums and friends.  Students meet with mentors throughout the school year for career conversations, law school guidance, cover letter review, mock interviewing, and job shadowing experiences.
Become a Mentor!
Serve as a mentor in the Mustang Exchange.  All mentors have law degrees, but their practices and businesses range broadly from commercial litigation in a big law firm to nonprofit work.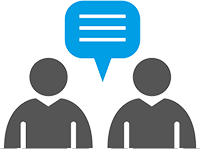 Contact us at mustangbar
@smu.edu
or 214-768-4LAW.